Free shipping | 3 years warranty | 30 Days Right-To-Return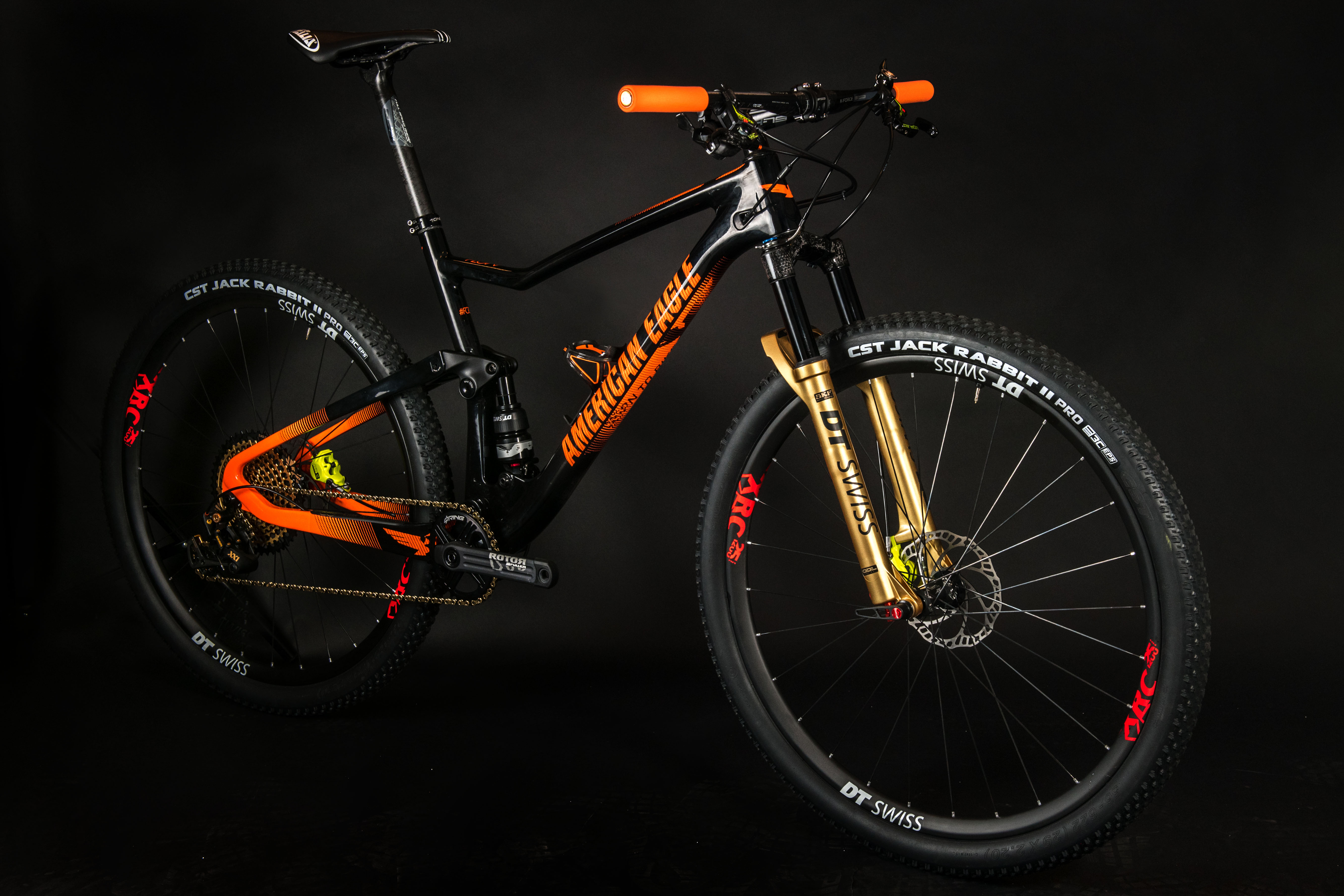 Flow Full Suspension
The American Eagle Flow Full Suspension is a race tested full suspension mountainbike. In 2018 the CST Sandd American Eagle UCI Elite Mountainbike Trade Team tested the first bright orange colored prototypes during their races on national and international level. These tests went very well and good results were ridden by the Team with the Flow. Young dutch rider David Nordemann won the bronze medal with the Flow full suspension prototype mountainbike during the World Championships Men U23 in Lenzerheide, Switzerland 2018.
Some adjustemnts and improvements were made, as suggested by the riders and mechanics after testing and working on the frames, before the final models were taken into production. The graphic design for the Flow is based on the design for the Atlanta 2.0  hardtail by American Eagle. The stripes were replaced by flowing lines, which also results in the name for the American Eagle full suspension bike, the Flow.
The lightweight and stiff frame (1840 gram for medium 17.5 inch size) is build for a 100 mm front and rear suspension. Reinforced carbon layers in the bottom bracket make the frame stiff. Natural flexibility of the carbon layers in the seatstay of the rear fork give the Flow also its stiffness and it keeps the frame lightweight.
Specifications
Frame sizes 15.5 / 17.5 / 19.5 / 21.5
Carbon 29 inch full suspension frame
Lightweight (1840 grams for 17,5 inch size)
31,6 mm seatpost
Boost (148mm) rear fork
Pressfit 92 bracket
Internal cable routing
DT Swiss Twinlock suspension optional
Price Framekit  € 2.995,- / Price Framekit incl DT Swiss Rear suspension  € 3.195,-